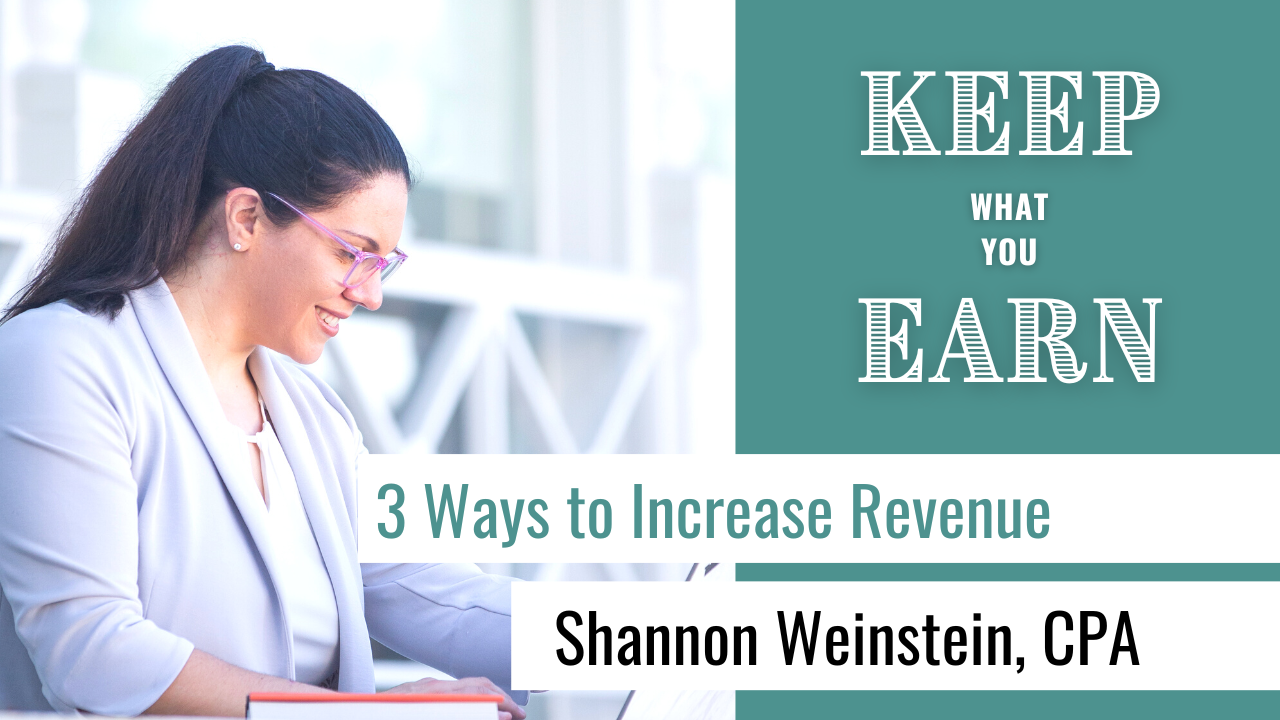 3 Ways to Increase Revenue
Mar 08, 2023
We all know that making more money in business is really a function of two key variables, sales and costs. Most of the time, we're really focused on that first number, our sales. Not just calling in the right people getting your messaging right as we've talked about before, but also how to increase your revenue.
If it feels like you're hustling so hard, trying to get new customers in the door and more people buying from you, just know it doesn't have to be this way! I'm diving into the three ways I know you can increase your sales, which ones I prefer, and which ones I think are most sustainable and lucrative for you to spend your time and energy trying to implement.
In this episode, you will learn the following:
1. How can entrepreneurs increase their sales without having to acquire new customers?
2. What is the most effective and sustainable way to increase revenue?
3. How can you raise prices without compromising customer trust?
What you'll hear in this episode:
The three key variables that drive sales.
Selling to more people and getting more people to buy includes a cost of acquisition and a cost of fulfillment.
How to develop a recurring or recurring revenue model.
How can you increase your revenue?
You have to make sure that the market you're selling to can tolerate the new price point.
Why raising prices is the best way to increase revenue without increasing costs.


Here are some brief snippets from this episode:

[00:00:50]
Making more money in business is really a function of two key variables, one being sales and one being costs. There are three key variables that go into how your sales are driven. Here are the three ways I see that can increase your sales.

[00:05:11]
How many times does your client repeat by? What are the ways that you can develop a revenue model that is recurring or reoccurring where the same customer buys from you over and over again and again. Higher prices is a great way to increase your revenue.

[00:12:10]
Michael King is teaching seven step framework to building a profitable fractional CFO business. Join us May 16 through 18th in Dallas, Texas. There's a link in the Show Notes to jump into our listener community. Please leave a rating and review on your podcast platform.
Related episodes:
235. Copywriting Secrets to Convert with Jess Jordana Paxson
240. Facebook Ads Strategies that Work with Daria Kotenko
242. Turning Tweets to Customers with JK Molina
Resources:
Attend The CFO Accelerator Live: https://www.thecfoaccelerator.com/shannon
Find everything you need at www.keepwhatyouearn.com! https://www.keepwhatyouearn.com/
Questions about this episode? Text me!: https://my.community.com/shannonweinsteincpa
Chat about this episode in the Keep What You Earn Community – http://keepwhatyouearn.circle.so
Hire us: https://www.fitnancialsolutions.com/accounting
See how much you can save with an S Corp: https://www.keepwhatyouearn.com/keep-what-you-earn-s-corp-calculator
Find me on IG @shannonkweinstein
Meet me face-to-face on YouTube: https://www.youtube.com/channel/UCMlIuZsrllp1Uc_MlhriLvQ
Featured in Yahoo Finance! Read more here: https://finance.yahoo.com/news/10-bookkeepers-accountants-watch-2021-113800161.html
The information contained in this podcast is intended for educational purposes only and is not individual tax advice. Please consult a qualified professional before implementing anything you learn.
Key Words:
prices, raising, client, increase, buy, customer, sales, cfo, money, business, spending, cost, fractional, revenue, offer, charging, recurring, people, sell, create